HOT Shots
Every weekday morning during the Morning Hot Tub with G-Rant and Sherri K at 6:40, 7:40 and 8:40 you will hear Hot Shots! Hot Shots are compiled from of the biggest celebrity stories and scandal from Hollywood. The Morning Hot Tub will discuss, debate and disclose anything and everything they can find with Hot Shots.
HOT

SHOTS
Prince and his ex-wife Mayte Garcia had a passionate marriage, until the tragic death of their infant tore them apart, Garcia explains. She tells the whole sad story of love and death in her new memoir, The Most Beautiful: My Life with Prince. She was thrilled to discover she was pregnant at 22. They planned to raise the baby in Paisley Park. Prince and Garcia named their baby Amiir (Arabic for "prince") while he was still in the womb. All was well until she started bleeding one day and the doctor recommended a test for abnormalities. The doctor said: "Sometimes the body is trying to release the fetus for a reason." But Prince, Garcia writes, was against it: "My husband said, 'No, we're not doing that.'" Prince prayed for the child, she writes, but doctors continued to warn of problems. Garcia writes: "My husband and I looked at each other and shrugged. 'And?' he said. 'I'm totally fine with that.' He was born on October 16, 1996, "and then they held the baby up to those harsh lights," she writes. "The elation on my husband's face turned to pure terror." They discovered he had Pfeiffer syndrome type 2, a rare genetic disorder. In the days that followed, Amiir underwent multiple surgeries. He lived for six days. In an interview, Garcia says "I don't think he ever got over it. I don't know how anybody can get over it. I know I haven't."
Taylor Swift's TAS Rights Management filed a whopping nine trademarks for "Swifties" last month. Billboard explains that she may be developing "a personalized fan club app complete with exclusive merchandise, audio/video/live performances, and the possibility of a mobile game." It's not, as TMZ indicated earlier, a streaming service aimed at competing with her enemy Spotify. Swift removed her music from that platform in 2014, saying, "I'm not willing to contribute my life's work to an experiment that I don't feel fairly compensates the writers, producers, artists, and creators of this music." She has since shilled for Apple Music – where her catalog is available – having made amends with another one-time foe. Billboard notes Swift also appears to be establishing some sort of education program, given that one of the trademarks is linked to "classes, conferences, coaching, lectures, camps, retreats, seminars, educational summits, workshops, self-guided classes and self-guided online courses of instruction."
In a new interview with Esquire, Chris Evans reveals that he got busy in more ways than one during the spring of 1999 after booking his first television series Opposite Sex. "So I go home and that spring I would wake up around noon, saunter into high school just to see my buddies, and we'd go get high in the parking lot," he recalls. "I just f**ked off. I lost my virginity that year. 1999 was one of the best years of my life." Fortunately, Evans had done extra coursework the previous fall and graduated early.
Shawn Mendes has been tapped to star in Ivan Reitman's big screen musical Summer of Love. The film will be Reitman's first foray into the genre. The title is believed to reference the summer of 1967, when as many as 100,000 people converged in San Francisco neighborhood in opposition to the Vietnam War. The film will mark the first time Mendes has appeared on the big screen, although the 18-year old musician lent his voice to the 2013 animated adventure Underdogs in which he played Jake, a master foosball player. Reitman is still in the process of shopping the film to studios for production and distribution.
Carrie Fisher and Debbie Reynolds will be celebrated at a joint public memorial on March 25th held at Forest Lawn Memorial Park. A James Blunt tribute song will reportedly be dedicated to the late actors. Blunt and Fisher were close friends. The Star Wars icon was his daughter's godmother. Blunt won't be performing but that the track will play during a photo montage. The Gay Men's Chorus of Los Angeles and a dance tribute from Debbie Reynolds' dance school are also scheduled to take place while costumes and memorabilia will be on display for fans to observe. The memorial, which will take place in the 1,200 seat theater, will be live streamed on Fisher and Reynolds' websites. Reynolds died on December 28th at the age of 84 from a stroke. She passed away just one day after her daughter died on December 27th at the age of 60 after suffering a heart attack while on board a flight from London to LAX.
A Los Angeles judge has sided with Katy Perry in her bid to purchase a former nun's convent. Los Angeles Superior Court Judge Stephanie Bowick ruled this week that the California Institute of the Sisters--which is controlled by the Roman Catholic Archbishop of Los Angeles--has clear title to the property and so is free to complete the sale to Perry, who had been competing with local restaurateur Dana Hollister for the 8-acre property. The Roman Catholic Archbishop of Los Angeles had been locked in a legal battle with the convent's nuns for nearly two years over who had the right to sell the property. Perry has been trying to buy the property since 2015 in hopes of transforming it into a sprawling estate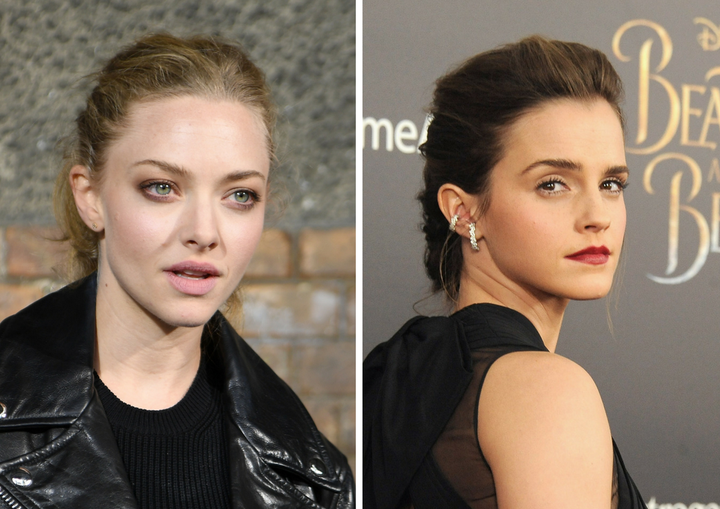 It appears that hackers have gained access to private photos of Amanda Seyfried and Emma Watson and posted them online. TMZ reports that nude pics of Seyfriend and her ex-boyfriend Justin Long were posted on a website called Celeb Jihad on Wednesday. Her attorney says the images were "wrongfully obtained" and have demanded that they be removed at once. Meanwhile, Watson's spokesperson has confirmed that the photos of the Beauty and the Beast star are from a clothes fitting she had with a stylist a few years ago. The actress' attorneys are currently looking into the matter.
The Church of Scientology has slammed television network A&E for renewing Leah Remini's show Scientology and the Aftermath for a second season. "The Church has repeatedly asked A&E to investigate the production of the Remini series and financial payments, especially in the wake of numerous violent threats generated against the Church, its leaders and parishioners coinciding with the airing of the series," a representative for the releasing says in a statement to Page Six. "Those hate crimes include death threats and acts of vandalism, many of which have been and are now the subject of law enforcement investigations." The Church has also gone as far to create an entire website dedicated to Remini's show, which alleges that former member Mike Rinder paid for the series.
When Ellie Goulding burst onto the music scene, crippling anxiety threatened to derail her career. Goulding opened up about her struggle to overcome panic attacks, and how fitness helped her find balance and serenity. "My new life as a pop star certainly wasn't as glamorous as all my friends from home thought," she said. "Secretly, I was really struggling physically and emotionally." Even her 2016 performance at the Grammys, during which she sang "Rise Up" and "Love Me Like You Do" with Andra Day, was "pretty nerve-wracking." Instead of allowing her anxiety to overcome her, Goulding said she turned to exercise, particularly boxing and kickboxing. Recently, the singer has been flooding Instagram with photos and videos of her workout routine.